09/09/05 - Friday - Page to Kanab
After a quick breakfast at the hotel in Page (AZ) we backtracked down SR-89 to SR-89 ALT, crossing Navajo Bridge and passing the Vermillion Cliffs before reaching the turn off for the Grand Canyon's North Rim. The main road down to the North Rim was wonderful! Broad sweeping turns through pristine forests. The secondary roads to the additional view points were spotted with debris; pavement wrinkles (in the turns of course), thick collections of pine needles and branches blown down from trees. I gently "punched" a limb on the throttle side with my cold weather gloves, unable to completely avoid the tip as I rounded a turn. The view points of the North Rim jettison you "into" the canyon, in contrast to the South Rim where you skirt along the edge for miles at a time. We all agreed that both are worthy destinations.
Although the side winds were fairly intense most of the day, we really got hammered towards the end with some really strong gusty winds before entering Fredonia. It was much the same or worse for Michael as he left us at lunch to reach Phoenix before nightfall. The bikes handled it fine, but I had to tie down my map pocket and a wayward zipper pull near the neck (ouch, ouch, ouch!). Maximum temperature recorded for the day was 91°F, although much of the time at the canyon was considerably lower. Rain was spotty. 245+ miles for the day.
Next: Kanab to St. George (Bryce Canyon, Cedar Breaks and Zion)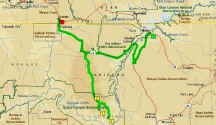 Tip 3: Save your receipt from the Grand Canyon (it's good for seven days to see both rims). When you are sure that you will visit two more parks (Bryce and Zion) you can apply the Grand Canyon entrance fee at either park to an annual pass. When you are riding 2UP, it only takes three park visits to make the annual pass the better deal!