---
11 States and Reno Strom Gathering
---
May/June 2006 "11 State Ride"
Day 1

San Diego, CA
Flagstaff, AZ

ODO 471.2 mi
GPS 459.0 mi
DRV 7:57 H:M
AVG 57.7 MPH



Huckleberry. Testing gravity. Getting a belly-rub!

Huckleberry (???? - 5/18/2006)
[Lisa] Left early for Flagstaff to get through the desert before the heat of the day. I cried all the way there. I held the paw of our beloved dog Huckleberry only hours ago as his life slipped away, and I was riding with a broken heart. Thankfully, I am here with my favorite person in the whole world, which eases a lot of the pain.

We hung Huckleberry's dog tag
on the license plate so he could
"tag along" on our trip with us.
[Lisa] We left after very little sleep, maybe 2 hours, and had a couple of breakfast bars and coffee. We rode through the early morning coolness into the desert, and it was already in the 80s. The desert is always a comfortable place for me. I've explored a lot of it on foot, so it's like visiting an old friend. There were still wildflowers out, and the Ocotillo were waving their bright orange-red blossoms as we flew by Anza Borrego. We got gasoline in El Centro, then rode on. We stopped at a Subway Sandwich shop in Blythe for lunch. By then the temperatures had climbed to over 100 and we broke out our evaporate vests. Then, back on the bike to make "progress to Congress" where the road would climb us to cooler elevations. We had a great drive through the Red Rock Canyons, past Prescott, and through Jerome.


The folks at Cyclezone
in Prescott (AZ) hooked
Lisa up with a new tinted
helmet shield
[Lisa] We stopped for dinner at the Red Planet Cafe in Sedona. What a wild place! There was all kinds of stuff with little green men and Area 51. Long day on the bike.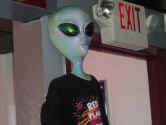 Red Planet Cafe in Sedona Oak Creek Canyon on Alt-89
[Lisa] We pulled into the Motel 8 on Route 66 for the second time. They remembered us from last September when rode out to do both rims of the Grand Canyon! The woman at the desk was the same as before, and asked me how the ride went! It's nice to be remembered.
Next: Day 2
---